Sure Word Ministries, Inc.
An International Prophetic Ministry


VISIT OUR NEW WEBSITE AT:
"http://surewordministries.net"
CLICK HERE: Visit "Kingdom Treasures" Online Store
(Bibles, Books, Computers, Jewelry, Musical Instruments & More!)
When the Lord speaks, it's a Sure Word.
It's not something that comes from the heart of man.
It's a word in due season that comes from the heart of God!
ARTICLES ARCHIVE
Click Here!
PROPHETIC
ARTICLES & INSIGHTS
Teachings on the
Gifts of the Holy Spirit & More!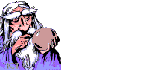 CHURCH HISTORY SECTION
REVIVAL SECTION
EVOLUTION VS CREATIONISM
ARE YOU "ON FIRE" FOR JESUS?
Click Here To Read Article!

GOD BLESS AMERICA
Click Here
SECTION ON EAGLES
PRO-LIFE & ABORTION ISSUES
PHOTO ALBUM
Pictures from the Nations
FREE DOWNLOADABLE BOOKLETS
MANY GREAT TOPICS!

International Section
Jewish Section Index

Listen to Donna's
Latest Music CD
Meet the Preacher

Interview with Jesus
Click to Watch!
Praise & Worship Section
The Ten Commandments
ARE YOU SAVED?
Have you accepted Jesus Christ
as your Lord & Savior?
If not, click here now!
If you would like Donna to minister at your church,
conference or event, please send email.





Sure Word Ministries, Inc.
PO Box 383
Litchfield, IL 62056