All About Eagles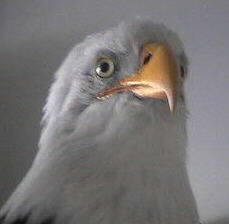 An Eagle is one of the most powerful birds in the world.
Bald eagles have two centers of focus in each eye,
Allowing them to see both forward and to the side at the same time.
Bald eagle vision is five-eight times sharper than that of a human.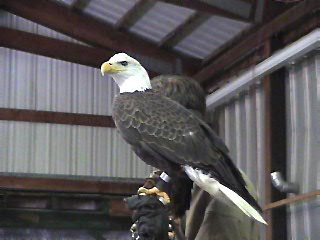 18 Year Old Male Bald Eagle
January 24, 2004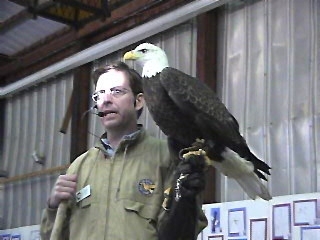 January 24, 2004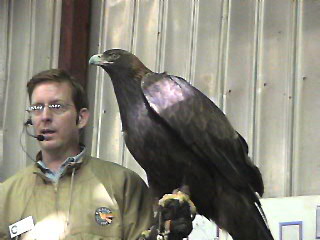 35 Year Old Golden Eagle
January 24, 2004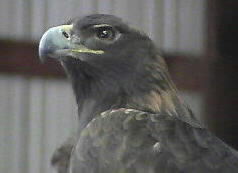 Golden Eagle
January 24, 2004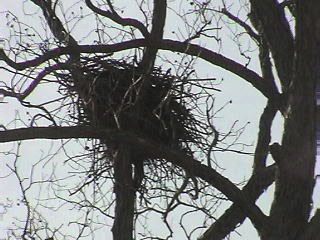 Eagle's Nest
Ted Shanks Conservation Area
January 24, 2004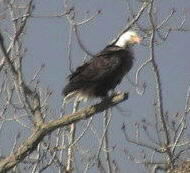 Bald Eagle in a Tree
January 24, 2004

History of the Bald Eagle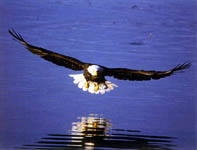 Isaiah 40:31:
But those who wait on the Lord shall renew their strength;
They shall mount up with wings like eagles,
They shall run and not be weary,
They shall walk and not faint.

PLACES TO SEE EAGLES IN THE U.S.A.
ALASKA:
As many as 3,000 bald eagles gather in autumn
at the Chilkat River Bald Eagle Preserve
CALIFORNIA:
Tule Lake, Klamath Lake, and Bear Valley National
Wildlife Refuges - all near the Oregon border
FLORIDA:
Florida's Everglades have large eagle populations.
From Alton, IL - go up the river road north to Grafton.
Pere Marquette State Park has eagle tours from December-February
MISSOURI:
Swan Lake National Wildlife Refuge attracts
numerous bald eagles during the winter.
SOUTH DAKOTA:
Along the Missouri River bald eagles can be
seen in the winter at Karl Mundt National Wildlife Refuge
TENNESSEE:
Reelfoot Lake has many bald eagles beginning in late autumn.
UTAH:
Both Cedar and Rush Valleys have eagles from December to March.
WASHINGTON:
Bald eagles can be seen at Olympic National Park,
Nooksack River and the Skagit River Bald Eagle Natural Area.
EAST OF THE MISSISSIPPI RIVER:
Bald eagles are more easily seen here at dense nesting territories.
Florida's Everglades and Chesapeake Bay both have large populations.
MISSISSIPPI RIVER:
In Minnesota and Illinois bald eagles can be seen along the Mississippi River.

ROCKY MOUNTAINS:
In the winter bald eagles gather near rivers
especially in Grand Teton, Glacier, and Yellowstone.

I highly recommend Col Stringer's Book:
On Eagles Wings
Visit his website





Pictures on this page may not be used without written consent from photographer.